I have a confession to make: I'm an official addict of Young House Love. It's kinda hard for me to get much done at work until I've had my daily dose of YHL, in fact.  And I'm one of the thousands of people who want to be BFFs with Sherry and John, and have actually had dreams about them.  Ok, time to stop gushing before I sound too much like a crazy person.
YHL is actually how I heard about Pinterest ('Oh Wonderful Time Suck Full of Pretty Inspiration,' is my own full name for the site).  The first thing I thought when I ogled it for the first time was "I really wish this thing had existed when I was planning our wedding."  It makes my crazy binder full of printed photos and scraps, which I still have somewhere, look like child's play.  Kinda like that other folder I kept when I was 13 with photos of Jonathan Brandis.
Ok, moving on, and quickly: I made something and it worked!  Seriously, I was shocked.  And I owe it all to the Pinterest Challenge.
Full disclosure: I made this a few weeks ago, but I thought it would be cool to share it as part of the challenge today.  A while back I found an awesome photo of a wreath on Pinterest.  I was in love.  Mostly because it involved burlap, and I seem to have an unhealthy obsession with burlap lately.  Seriously, I want it EVERYWHERE.
After memorizing this awesome tutorial at Today's Fabulous Finds, and an epic trip to Michael's and a local fabric store, I was ready.  Thad (the husband) was at work for the afternoon, and I was unleashed with two yards of burlap, a foam wreath circle, and 100 pins.  I was a little scared – normally I'm not a crafty person, and I've started lots of projects that ended in a very, very, not so good, horrible way.
To my surprise, when Thad returned (only a couple of hours after I finally got started) he was welcomed by this: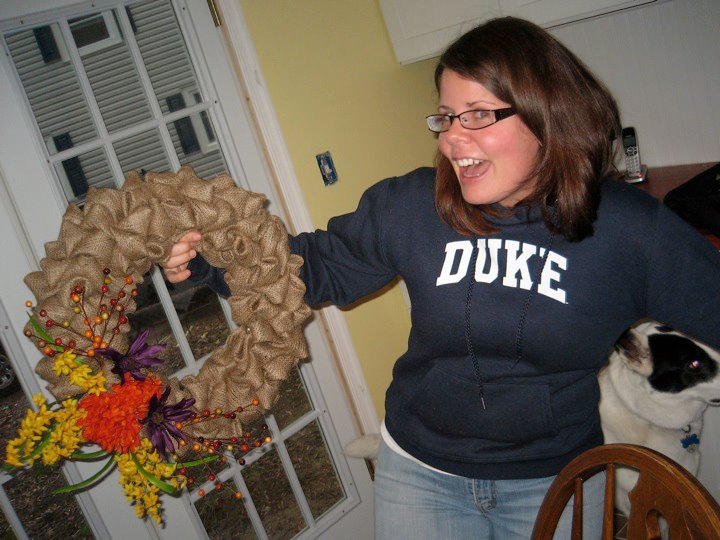 This is my "holy crap I made something and it worked" face.  And yes, that's Phoenix in the background.
The online tutorial was so awesome, and the project was so simple that even I didn't mess it up – huzzah!  I was worried that the pins wouldn't really hold the burlap "bubbles" in place, but it all worked out.  100 pins wasn't enough for me, but I just pinned all the flower bits in the place where my wreath was looking a little sparse, and all was well.  And I had burlap to spare.
I also debated how to hang it, since we have a metal front door, and I didn't want to attempt to nail anything in that sucker.  Luckily we had a strong magnetic hook on our fridge (from one of my other ideas that went awry a while back), and all I did was put that on the inside of the door at the very top, and used that to secure the ribbon I got to hang my new baby.  And behold: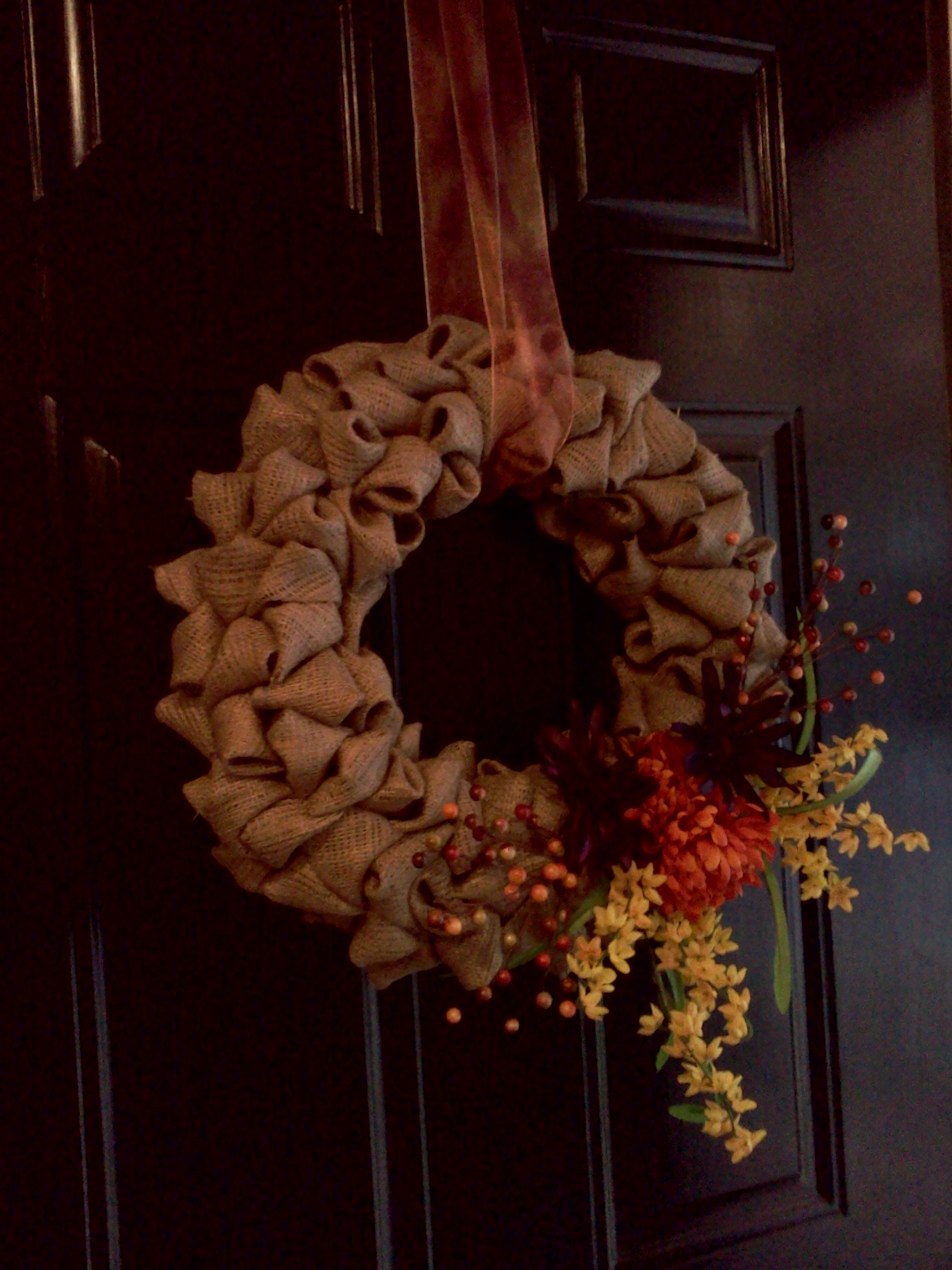 Thar she blows.  I was so proud I immediately sent this photo to my mom.  I love the texture the burlap gives to the wreath, and I also love that all the fall-ish flowers and berries were 50% off at Michael's.  And, I have plans for this baby after Thanksgiving.  For just a few more bucks (for different flowers/decs/ribbon) and probably about 5 minutes of my time, I'm going to convert her to a Christmas wreath.
And all it took was about $20, two hours of actual time, and then about an hour for me to bounce around the house, to the amazement of my husband and pup, singing "Look what I made!!  It's so awesome and I MADE IT."
I want to make more of these things too – maybe a spring-y wreath with a lighter color of burlap??  We'll see.  In the meantime, I'll still be admiring my current handiwork.  Thank you Pinterest.  Thank you YHL.  With our powers combined, we made something crafty 😉
PS – The folks at Pinterest don't know who I am and didn't endorse this or anything.  I just have lots of love for them.  That's all.
PPS – You should totally check out the other Pinterest Challenge projects!  You can see YHL's, Katie's, Erin's, and Ana's.  Woohoo!